Nervousness: how to calm irritability?
Written by: Loris Vitry (coach and Yoga teacher)
Validated by: Cathy Maillot (Osteopath)
Caution: If you have any medical questions or concerns, please speak to your doctor. Even if the articles on this site are based on scientific studies, they do not replace professional medical advice, diagnosis or treatment.
---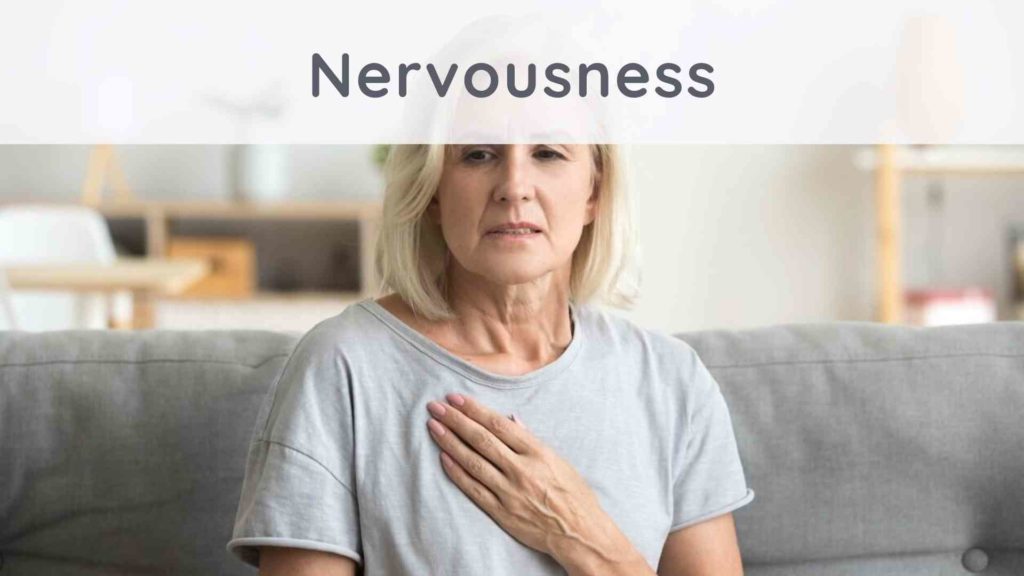 ---
Do you know what your stress level is right now? To find out, do our
stress test
(based on 2 scientific tests).
Do you find that you are no longer able to control your thoughts sometimes?
Do you have sweaty hands? Are you stressed?
You might be going through a nervous situation.
It is also characterized by a dry mouth and an inability to breathe well.
Several factors can cause it.
These factors can be psychological as well as physiological.
However, be aware that there are many ways to prevent and manage nervosity.
Discover how to cope with it in this article.
Do yoga or mantra
This solution is powerful to counter irritability.
Simply practice yoga for 30 minutes.
Yoga will help you to focus better, evacuate your momentary tensions, and make you feel well for hours after practice.
It also brings your physical and mental states to balance.
Besides, it is useful for normalizing your breathing.
To put it into practice, you simply need to master breathing techniques.
Try a long time breathing exercise to calm your mind.
One of these exercises is to close your eyes properly and slow down your breathing.
To do this, find a suitable place to avoid being disturbed by noise or people.
When you can find the ideal area, get comfortable, and try to regulate your breathing rate.
Relax and focus and tell yourself that you are feeling good.
Then breathe in and out.
Repeat this until you feel quiet and your good mood returns.
Enter your inner thoughts, and see how sad and irritated you are in nervosity crisis.
Now open your eyes to smile to the world.
Finally, if you are not a yoga practitioner, develop a mantra.
This meditation exercise still allows you to get out of nervousness as quickly as possible.
For success, repeat your magic daily sentence aloud.
That's a sentence that makes you feel happy or motivated.
Use it as much as you want to remove anxiety and to put your mind on good vibrations.
Close your eyes when you start and open them when finished.
You see how pleasant life is.
Yes, it is happiness!
Have fun to calm the nervousness
When you can no longer stay calm, and you feel on edge, think of entertaining yourself.
It is a solution that helps you to relax and think positively.
Go to the cinema or for a walk, and this will allow you to find your good mood.
If you don't feel like going out, turn on the TV and watch your favorite channel.
Watching the series, you love on your computer also seems to be an excellent alternative to air your thoughts.
If you live with loved ones, try playing board games with them to get your mind off what makes you nervous.
Stay away from what gets on your nerves and think that life is joy and happiness.
Listen to music, especially soft ones with soothing lyrics.
Dance if you think that can get you away from stress.
Prepare your preferred dish, and you will feel less irritated immediately.
Go to the beach with your trusted friends to enjoy life.
In short, do whatever it takes to regain your well-being.
Experience self-hypnosis
If you feel nervous, you could also practice self-hypnosis.
It's an exercise that allows you to meet your unconscious.
Here is one of the many possible exercises you can try.
Listen to what you want to change in your life, take a sheet of paper and write it down.
For example, note as a first objective: I want to live happily.
And write sub-objectives more precisely:
In 1: I chat with my friends and I smile.
In 2: I listen to them.
IN 3: I respect their points of view.
IN 4: I stay calm.
This is how you can avoid irritability.
So, as you complete this step, get ready to practice your hypnosis session.
Find a comfortable chair.
Sit down and relax.
Let go of your body and let your mind rest.
Now go into hypnosis.
Close your eyes, and think positively of your goals.
See them, imagine your desired goals are happening now, feel it, hear it like it's true.
Instill in your subconscious mind the change you want.
Imagine anything that makes your life so calm and enjoyable.
Observe how your mood and feelings are changing.
Then feel your body, breath calmly, and slowly open your eyes.
You will undoubtedly feel that nervousness disappears after this exercise.
Get enough sleep
Sleep is a natural stress reliever.
It allows you to relax, stay healthy, and get rid of nervousness.
To have all these benefits, sleep well, and genuinely on comfortable bedding.
If you live with family or friends, tell them with a smile that you need to rest and that you will appreciate they don't disturb your sleep.
Also, turn off your phone before going to bed.
And sleep 8 hours to rest your nervous system.
If you usually can't sleep well, try to relax before going to bed.
To be more precise, try a little walk in the fresh air to help you fall asleep quickly later.
A massage is also an excellent idea for quickly falling asleep.
And don't forget, silence is a must for a good sleep and to get your good spirits.
But first, eat a light meal to get a peaceful sleep.
Avoid fat and sweet.
Also, avoid dense foods.
Also, don't forget to hydrate yourself.
So drink a glass of water before you lie down.
Then calm your mind and think of nothing.
Conclusion
Nervousness can arise from various factors.
However, you should not allow restlessness to dominate you because stress and nervosity can have serious consequences.
So, just apply the solutions mentioned above to regain your well-being quickly.
---
Continue reading:
Procrastination: how to get out of it?
Asthma: how to care naturally?