Confessing your feelings: how to declare your love?
Written by: Loris Vitry (holistic coach)
Validated by: Cathy Maillot (Osteopath)
Caution: If you have any medical questions or concerns, please speak to your doctor. Even if the articles on this site are based on scientific studies, they do not replace professional medical advice, diagnosis or treatment.
---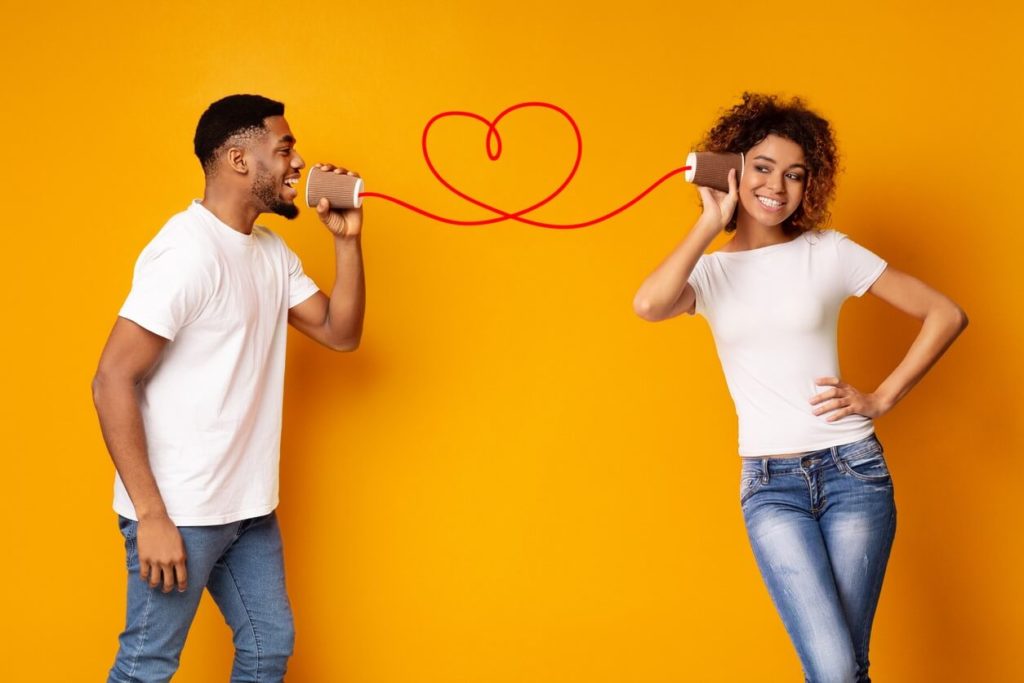 ---
Discover the 1st
distance energy healing
agency worldwide (spiritual awakening and increase in your vibratory frequency guaranteed).
Julien, you like the newcomer to your school, you find him handsome, caring and funny.
Camille, your new colleague is kind, attractive and intelligent.
You don't know how to tell him how you feel.
You desperately try to get his attention, but alas, all your efforts are in vain.
You wonder how to make your statement without hurting him / her.
Don't worry, in this article you will find tips to help you succeed in this step.
Be sure of your feelings
Before confessing your feelings, be reassured of how you really feel.
It could be a simple physical attraction due to your lover's beauty, a crush, or true love.
After much thought, you will have an idea of ​​what attracts you about this person.
So you will know if you want a romantic relationship, a friendship, or a relationship based on sex.
Once you are sure how much love you feel for this person, how do you make your statement?
Be honest and confident
When you declare your love to your loved one, be honest.
It allows you to be true to yourself and your loved one.
Be sincere and speak politely.
No one likes to be approached aggressively.
Tell Him what you are feeling deep in your heart using very simple terms.
Let your feelings speak.
Explain to him why you like him, what you like about him or her.
It may happen that this person also feels something for you, but is hesitant to tell you about it because he / she is afraid of your reaction.
Now is the perfect opportunity to confess everything to him.
It can facilitate contact and strengthen your relationship.
Besides being honest, be confident.
It is important to believe in yourself.
This will allow you to surpass yourself and deal with stress better.
You always feel safe with someone who is confident and reflects that.
Prepare your declaration
Declaring your love for a man or a woman is never easy.
You have to prepare well, know how to express yourself and classify your ideas.
It will also depend on the personality or character of the person concerned.
As mentioned above, speak up with politeness and respect.
Learn to deal with stress, fear or shyness.
There is nothing more humiliating than making your statement while shaking, or being stressed.
He / she will immediately feel that you are afraid, or that you are shy and that you lack self-confidence.
So be confident, release stress and shyness.
You can also rehearse your speech in front of your mirror or in the presence of a friend.
The latter can correct you and give you some tips.
Depending on the tastes and character of the person, you will know which word to place and where to place it.
If it is a romantic person, you can go on love words, poems to express your feelings.
If he / she is a smiley and very funny person, you can start the discussion with a joke or comedy that he / she loves.
On the other hand, if he or she is difficult to access and tough in character, then we should talk about a subject that he or she is very passionate about.
In addition, your loved one can be withdrawn, shy, and withdrawn.
In this case, it should be approached with caution lest you hurt him or her.
Above all, avoid starting your statement with a bad joke or getting him to talk about his old relationships.
Indeed, this person may have had difficult experiences and it is quite painful, that they do not wish to approach.
When making your statement, let him know how you feel.
For example, you can tell him:
• "I think you are very pretty, I would like to get to know you better, if you don't mind."
Or, opt for a sentence like:
• "Since you came to this office things have changed a lot, you are very dedicated and I appreciate that.
How would you like to go out for two this weekend? ".
Or, a sentence like:
• "You are very funny and I love your smile.
What if I invited you to the movies tomorrow? We can discuss, just to get to know each other better. "
You can use these examples or use your imagination to better express your feelings.
Make your declaration
When the preparation is complete, take action.
You are probably wondering how and where to do it.
In reality, there is no such thing as a perfect place to declare your love.
It could be on an outing with friends, in your office, at school, out of the cinema.
The main thing is to let go and express your feelings.
You can start off like this: "Please listen to me, I need to confess something to you. "
Through this sentence you get his attention and then you can make your statement.
You can also say this to him: "I am in love with you, my love for you continues to grow. I only dream about you. "
All this while staring him / her straight in the eye and stroking his face.
Your loved one may be sensitive to your gaze or your touch.
However, do not touch him / her, if he is a complicated person, as he / she may misinterpret him / her and push you away.
Plus, you can kiss her.
Remember, this may be the only time you can have to express your feelings to her.
Take advantage and do everything to make this moment unforgettable.
Kiss your loved one in the sweetest and tenderest way possible by saying this: "I love you. "
If the person is receptive, it shows that they love you too.
You have just scored a point.
Accompany this kiss with your statement and let her know how much you love her.
However, if you are shy enough and cannot cope with the stress, you can confess your feelings by sending her a message or letter declaring your love.
Some people will understand right away that you are shy and didn't have the courage to face it, and will accept your feelings if they are mutual.
Others, on the other hand, don't like it and prefer that we address them directly.
So get ready, take the right time to make your statement, be confident.
The loved one may be receptive to your feelings or push you away, don't be discouraged, just be patient and try your luck again.
Here are some tips that will allow you to confess your feelings, and to declare your love.
---
Continue reading:
Concentration disorder: what solutions?
5th spiritual dimension: how to enter?